UUFE's Episcopal friend, Doug Jurrius, answers The Five Big Questions and dodges a few more.  But still reveals a little about himself, about the paradox and synthesis in UU-ism, and what his Episcopal friends think UUs do under the full moon.
---
Where were you raised, and how?
Many places, starting in birth in Newport RI, there followed McElhinney Island LA, Norfolk VA, Altoona PA, Crockett TX, Pittsburgh PA, Yardley PA, then college at Lehigh.
As to how I was raised religiously, it is kind of murky.  When young I remember going to Sunday school, most likely Presbyterian.  As a teenager I joined a church youth group, and to this day I can't tell you the denomination, as neither I nor my family ever went to Sunday Services.  For 33 years, it has been Episcopal.
You must have lots of Episcopal friends.  What do they think goes on at the UU?
Bonfires and sweaty, naked, painted bodies dancing under the moon calling on:
God
the gods
the name of whatever entity that you personally consider to be your spiritual totem
all of the above
none of the above
some other choice that we mistakenly left out – please accept our apology
to light our inner flame and help us seek the path to living our 7 principles!
(Please accept this in the completely jovial joking mood in which I offer it.  I apologize if I have given any offense.  I really like going to UU!)
Offense?  No way.  I'm laughing out loud.  You captured it.  How much of you is still Episcopal?
Oh, a great deal!
The "ism" in UU-ism is a paradox?  Can anyone take UU-ism seriously, really?
There was one science fiction novel that talked about a field of human study and achievement called "Synthesists".  They did not have the depth of understanding in any single field of study, but they had a unique talent for pulling seemingly disparate concepts of the subject matter experts to create important new insights.  To my mind, UU may serve a similar role.   There is something very powerful in looking at the common elements of many faiths and finding commonality vs. conflict.  Whether anyone else takes UU seriously really isn't as important.
Your degree from Lehigh is in chemical engineering.  How have you made your living?
Almost entirely in sales and sales management.  Most of that in high tech.  A couple of stints building and operating native American companies.
I'm curious about the native American companies.  Are you native American?  What companies?
Oh no, not giving away ALL my secrets!
What's the story behind your email address – JurassicSailor?

Seemed cute when I thought of it.  Combination of my last name and my favorite recreation.
Favorite recreation is … racing on the Bay?  Blue ocean sailing?  (Okay.  Never mind.  I found clues here. )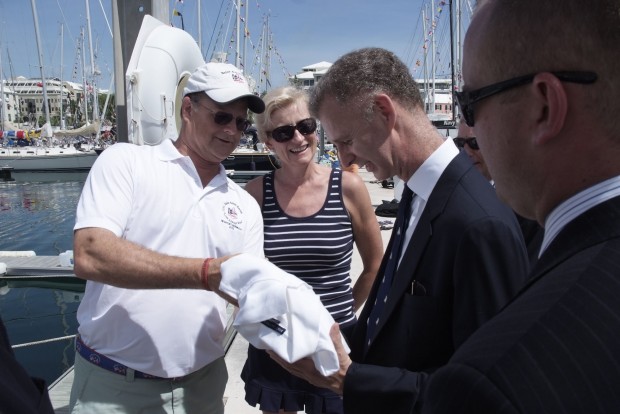 What's the most remarkable thing you've done?
Without a doubt,  convincing Cindy to marry me.  She has been truly amazing in her patience and love as I have slowly grown into becoming a human being.
What's the Next Big Thing for you? 
I would very much like to help promote mediation as a standard means of dispute resolution throughout our society.  Or at least until the boys are ready to settle down and provide me grandchildren!  So world peace and genetic security –  pretty much the standard things.  😉
How do you serve UUFE and why? 
Still working on that one, though the mediation effort is probably a good start.
How about a sneak preview of your upcoming talk at UUFE about science fiction and spirituality?
Goodness NO!  Am having a tough enough time writing this sucker!