On Sunday, June 4, 2023 we'll celebrate Liz Hausburg's long tenure as UUFE's Coordinator of Religious Education. We'll have a special inter-generational Sunday Service at 10 a.m. (yes, Liz is preaching!), followed by a potluck, slideshow, stories and cake. It will be a chance to show Liz our appreciation for her consistent and loving presence with our children and families. We hope to see you Sunday!  
In preparation for the service, I read through some old newsletters to better understand what was going on at UUFE when Liz was hired in 2007.
The 2006-2007 church year was a busy one. Jean Rhian was UUFE's President and Rev. Jim Bank was the minister. It was a year of major construction. The newsletters were full of building updates and milestones reached – from details on permits and fundraising, to specifics on installation of the new sound system and plans from the aesthetics team.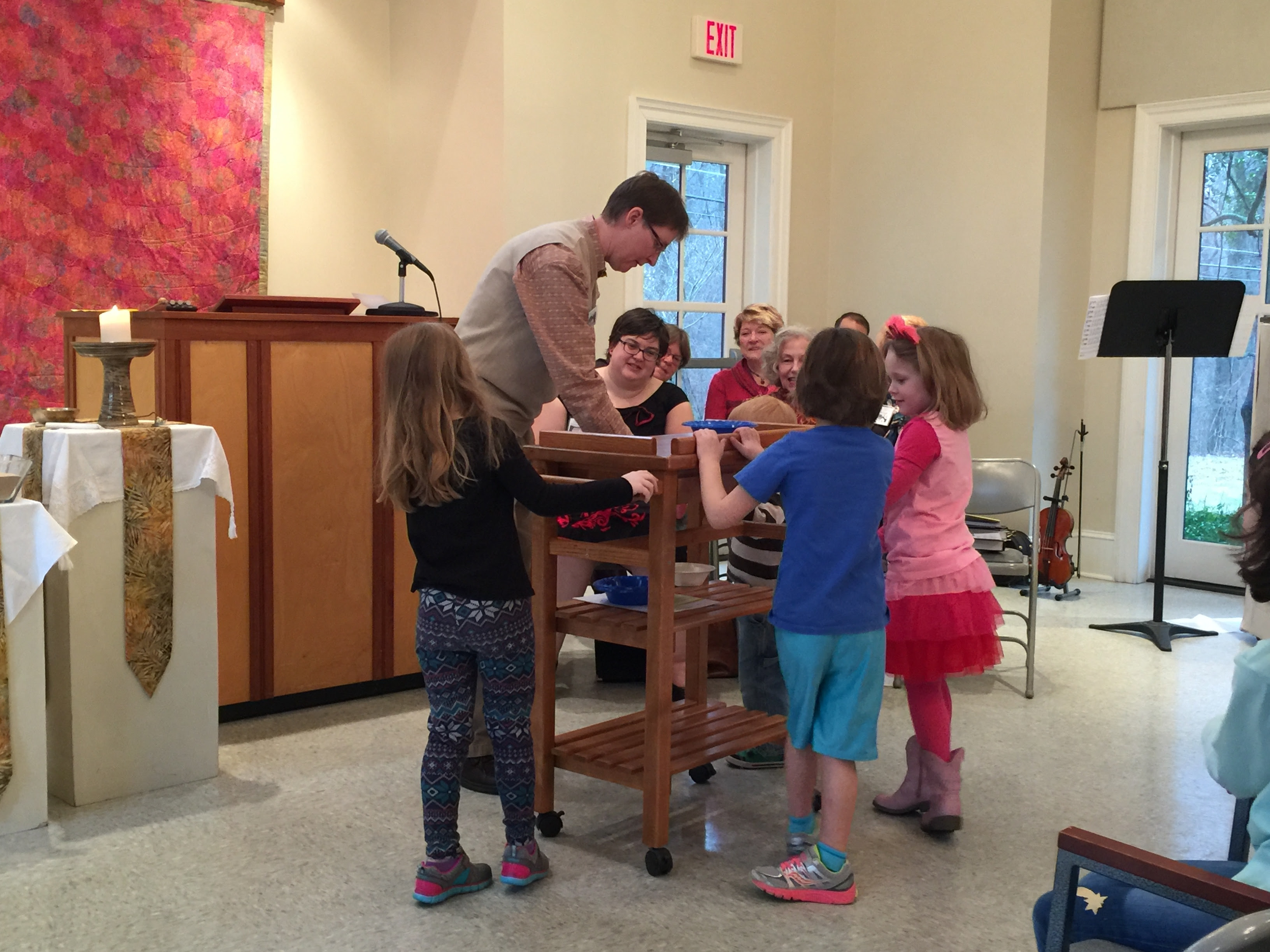 While construction was in progress, Sunday Services were held at Third Haven at 3 PM each week. Interestingly, I see there was a sermon by Rev. Bank  titled, "Talking on Transgender" with planned follow-up conversations. There was the completion of a "Caring Quilt" displayed for all by Gail Woodall with gratitude offered to Jean Griffiths. 
As if there were not enough moving parts, in late 2006 Nicole Meehan, who served as the Director of Religious Education, announced she'd be moving out of the area and she wrote a lovely "good-bye" message.  
In her monthly President's column in the newsletter, Jean Rhian assured the congregation that she'd make hiring a new RE leader a priority. A listening session was quickly scheduled to understand needs and hopes for Religious Education. A search committee was formed with Nancy Dimond (aka Sawyer), Amy Eutsey, Martha Hamlyn and Dave Moore, and the RE position was advertised.
Liz recalls that she had only been coming to UUFE for a few months. She had recently started dating Laura Winne, a member at UUFE, when Rev. Bank asked her to apply for the position. She started at "No, don't think so" and somehow slid to "OK." In went her resume, then came interviews, and here we are 16 years later.   
Liz started when the congregation was meeting at Third Haven, and she recalls then it was "more just playing with the few children who came." She was the RE Coordinator when the updated building opened. There were a few active, committed families and then more came. The families wanted something spiritual for their children and a cohort journeyed through the classes together in Liz's early years here. 
Since 2007, Liz has worked with Rev. Bank, Rev. Higgins, Rev. Maiorano, Rev. Parks and me. That's right, five ministers!  She's worked in tandem with the Religious Education Committee led over the years by Colleen Ronning, Nancy Dimond, Lauren Harton, Patty Hamsher, and currently chaired by Michele Drostin. And she's served with 10 different Board presidents. As we record the history, it's good to recall Liz stepped out of the RE role 2015-17, and we are grateful to Patty Hamsher for leading those years.

Whether bouncing around the foyer before service, or offering Thoughts for All Ages, or supporting our volunteers and the playroom coordinator, Liz has been a force at UUFE.
We'll miss Liz in her RE role (she'll still be a member!) and look forward to celebrating on June 4! Please join us in person or on Zoom. 
If you can't make it June 4 and would like to send in a memory or tribute, you can email the office at uufe@goeaston.net. 
In appreciation, 
Rev. Sue